Text Scrubbing
With ClipboardFusion, you can scrub your clipboard text in a variety of ways. Sometimes you need to transfer content between applications, and don't want to take all the extra formatting along with it. ClipboardFusion can help you with that.
You can set ClipboardFusion to scrub all copied text, only double-copied text (press Ctrl + C twice) or you can scrub text manually with the HotKey or context menu.
There are a few different options relating to how your text is scrubbed:
Formatting will be removed
Whitespace at the beginning or end can be removed
HTML tags can be removed
You also have the option to play a sound, or show a notification balloon when text has been scrubbed, just to let you know that ClipboardFusion is doing its job.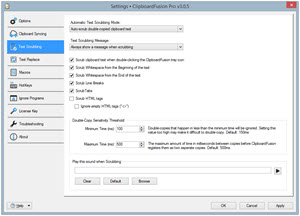 Settings > Text Scrubbing Tab